Taking Your Dog on a Walk the Easy Way
FULL DISCLOSURE: The links I share in this course ARE my affiliate links. This means I earn a commission, at no extra cost to you. In fact, sometimes you'll get a discount or free credits just FOR using my link. 🙂
Taking Your Dog on a walk is an exciting time for both of you.
It can be challenging, though, if your dog pulls too hard, or you accidentally let go of the leash.
Then you find yourself chasing after your fury baby, hoping they stay away from passing cars.
In this article, learn how to walk your dog and even enjoy the walk easily!
Fulfilling Exercise Needs
Taking care of dogs is a lot of responsibility. They must be fed, taken on walks, and given plenty of love and attention.
One of the most important things you need to do for your dog is to ensure he gets enough exercise. A healthy dog is a happy dog, and a tired dog makes any pet owner happy knowing they are being taken care of.
Exercise is important for dogs for many reasons.
It helps to keep them fit and healthy, both mentally and physically.
It helps reduce problem behaviors, such as barking and chewing.
It is just plain fun!
Fortunately, there are several easy ways to ensure your dog is getting the exercise they need while simultaneously allowing you to enjoy your walk.
Below are some of the most important points to remember when taking your dog for a walk.
Taking your dog on a walk
Walking your dog is a great way to get some exercise and fresh air. It's not always easy. You must always keep an eye on your dog, ensure they don't run into traffic and pick up after them when they go to the bathroom. Despite all the challenges, taking your dog on a walk can be a fun and rewarding experience. After all, what could be better than spending time with your best friend.
Taking your dog for a walk can be a fun and healthy activity for you and your pet. This time spent with your pup is an excellent opportunity to bond with your fur baby and make new dog-crazy friends.
However, the day can quickly go awry when your pup starts barking and chasing cats or any other animals. To avoid these problems, use the following tips to take your dog for a walk.
Heel
To get your dog to obey you, make sure your pet understands your command. Give the heel command before starting a walk. The dog will learn to obey it if you reward him for the behavior.
One command that you can teach your dog is heel. Heeling is when a dog walks next to or behind its owner without pulling on the leash. This is important because it helps prevent your dog from pulling on the leash and getting lost and makes walking them much easier.
Here are a few tips to help you teach heel to your pet:
Start by teaching your dog to walk with you on a loose leash. This will help them get used to benign next to you without pulling.
When they are walking nicely, give them plenty of praise and rewards. This will reinforce good behavior.
Make sure to add stops to your walk. When you stop, have your dog stop next to you and sit down. This will teach them that they need to stay close to you and sit for the walk to continue.
Practice in different environments so your dog can learn to heel regardless of distractions.
If your dog starts to pull on the leash, say "heel" while gently but firmly tugging on the leash. This will help them understand that when you say heel, you mean for them to follow beside you.
Getting your dog used to walking with you
The first step when walking with your dog is to redirect your dog's attention if he starts to pull. Stop walking when the leash becomes tight and reinforce good behavior when they are following next to you.
Your dog may pull at first, but this is normal.
A second technique to help your dog get used to walking next to you is by giving a treat when he is at your side. This way, your dog will know what you want him to do.
When you first start training your dog, give the treats after just a few seconds of them walking next to you. Slowly increase the amount of time in between the treat giving until you can walk with your dog without needing to provide treats.
Walking With the Leash
Getting your dog used to walking with you can be a rewarding experience for both of you. Just remember that the leash and walking are not the same things. Your dog will likely need to get used to the leash before you go out on a walk.
Teaching your dog to walk on a leash may seem like something they should already know how to do. However, wearing a leash is a brand new thing for many dogs, especially puppies. Your dog may not know how to walk while wearing a leash and may get scared and anxious and start to pull.
Sometimes it may be challenging to find a suitable collar and leash for your dog. However, if you know how each one works and in what situation they are best used in this can be a lot easier!
Reasons to Teach Your Dog To Walk On A Leash
Teaching your dog to walk on a leash is essential to responsible dog ownership. Not only does it help to keep your dog safe, but it also allows you to enjoy walks together without having to worry about your dog running off.
Training Your Dog To Walk With A Leash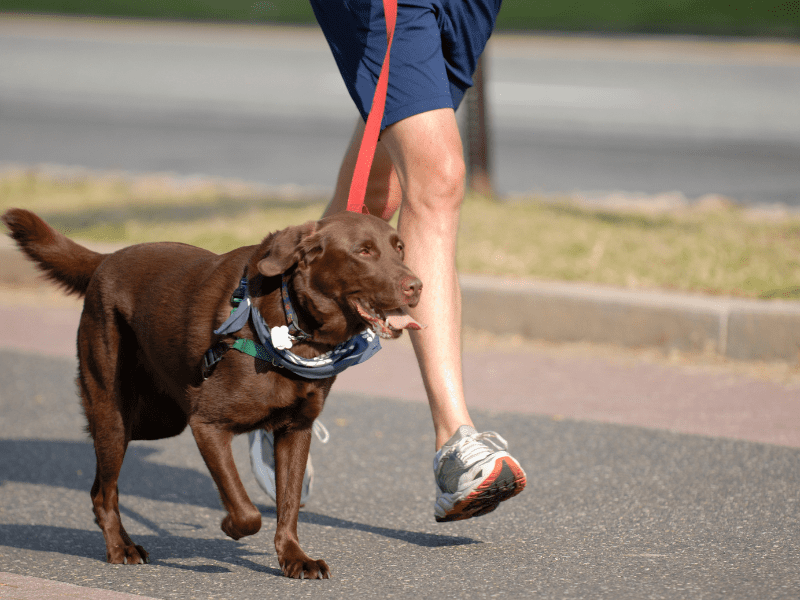 The first step in leash training is getting your dog used to wearing a collar and leash. Start by putting the collar on your dog for short periods, gradually increasing the amount of time your dog wears the collar.
Once your dog is comfortable wearing the collar, attach the leash and let your dog drag it around for a while.
After your dog seems comfortable with the leash attached to them, start holding onto the leash. Start by walking around the house, holding your dog's leash, and then walk around the block.
Make sure to take things slowly and be patient with your dog. This is new to them and may even be new to you.
With time and patience, you will be able to enjoy walks together without any trouble.
Letting Your Dog Sniff
When you first start taking your dog for walks, decide which parts of the walk are appropriate for your dog to sniff and explore.
When you have found a spot that you are comfortable letting your dog sniff at, loosen the leash (but still hold onto it) and let him sniff the surroundings.
Use your judgment to determine if he needs to relieve himself before moving on.
When you are ready to move on, have your dog move back to your left side. When they are on your left side, they know it is time to pay attention to you.
Avoiding Lawns, Gardens, or Mulch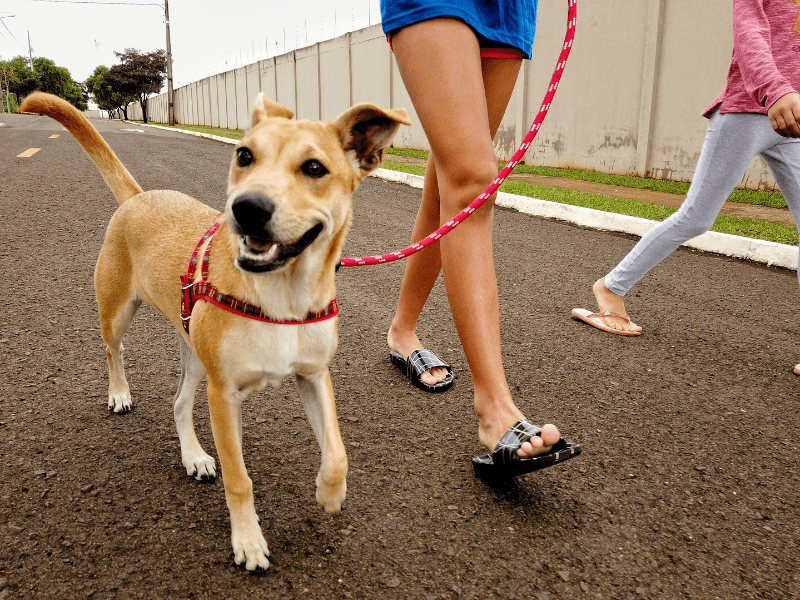 There are some places that you should avoid while dog walking. These places include lawns, gardens, and mulch. It would help if you avoided these areas because they can be potentially hazardous to your dog.
Lawn chemicals can be toxic if ingested, and sharp objects hidden in garden beds can injure your dog's paws. Mulch can also be a problem, retaining heat and irritating your dog's skin.
Avoiding These Areas At Home
If your dog wants to go into your garden at home, you can try using a fence or a dog playpen to keep your dog out. However, these areas may be a bit harder to avoid when on a walk.
Avoiding These Areas On A Walk
Avoiding damaging others' lawns while on a walk may seem like an easy task. However, it can be difficult because your dog wants to mark where they have been.
Dog urine can harm grass because of its nitrogen content, which burns the grass and dries the soil.
To help avoid these areas, make sure to keep your dog on a leash and walk your dog at least a few feet away from these areas.
We all know that leashes can be a bit finicky, so if yours breaks and your dog gets into some else lawn, it may be time to pull out the treat and call their name. This may be all you need to get them to come back.
However, if that does not work, you may need to go onto the person's property to get your dog. This is when patience and politeness come in.
Places For Your Dog To Do Their Business
Some places are more dog-friendly than others when it comes to allowing your dog to relieve himself. Here are a few safe places for your dog to do their business on a walk.
The first place is your local dog park. Dog parks provide a designated area for dogs to run off leash and play. Some dog parks may even have a section for small dogs and a separate section for large dogs.
Most dog parks have grassy areas where dogs can go potty. Just be sure to ocean up after your dog and dispose of his waste in the proper receptacle.
Another good option is a public park that allows dogs on leashes. These parks usually have a designated area where dogs can go off leash and play. Since they are generally large parks with plenty of trees and shrubs, there are usually plenty of places for your dog to relieve himself. Be sure to clean up after your dog and keep him on a leash when he is not in the designated off-leash area.
Another spot is a "dog-friendly" business such as cafes, restaurants, and shops that allow dogs inside. These businesses usually have a designated area for dogs to relieve themselves when you are outside.
Fire hydrants and poles can also be great places for dogs to use the bathroom. Many dogs prefer these spots because they can mark their territory and spread their scent to other dogs.
Keeping track of your dog's progress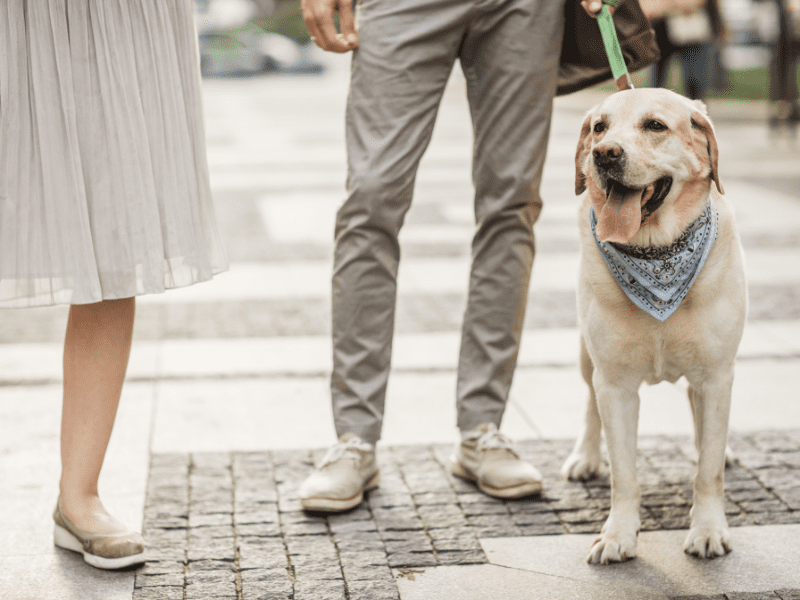 Keeping track of your dog's progress while taking a walk is a vitally important part of your exercise routine. However, sometimes it may not be easy to know what to look for or how even to start tracking their progress.
Fortunately, there are a few simple ways to stay on top.
Keep an eye on your dog's body language and energy level. If they seem tired or sluggish, it may be time to cut the walk short. On the other hand, if they are full of energy and want to keep going, that is a good sign that they want to continue the walk.
Watch for changes in their bathroom habits. If your dog is peeing more frequently or taking longer to relive themselves, that is a sign that may be a sign that they are getting plenty of exercise and hydration.
Check their weight. If you notice that your dog is gaining weight, then it might be time to increase the length or intensity of their walks. On the other hand, if they are losing weight, you may need to increase the amount of food you are giving them or decrease their activity level.
Make sure to bring some treats along for the walk. This way, you can reward your dog for good behavior and keep them focused on the task at hand.
Make sure to pay attention to the amount of praise you give them. A little encouragement can go a long way in keeping them on track. However, you do not want to provide them with so much praise that they get overwhelmed or too excited.
Be sure to praise your dog regularly during the walk. A little encouragement can go a long way in keeping them on track.
DogLog
If you're a runner, you might have used an exercise app to track your progress when you work out. But if you are a dog owner who likes to get outside with your dog, you'll find a walking app particularly helpful. These apps log the route you walk with your pet and the distance and speed of your walk. They also let you share your favorite walking paths with friends.
DogLog is a great app to keep track of your pet's health. It also reminds you when to administer medicine or take your dog to the vet. DogLog is free, and it is an excellent tool for those with many dogs or lots of animals to manage. Keeping track of your dog's progress while taking a walk is a valuable resource for you, and it makes your daily pet care a much simpler task.
Conclusion
So there you have it—everything you need to take your dog on a walk without breaking a sweat.
Just remember to be prepared, patient, aware of your surroundings, and clean up after your pet. Soon enough, taking your furry friend for a stroll will become as easy as putting one foot in front of the other.
Who knows?
Maybe you will even start looking forward to those walks yourself!
Do you have any personal tips for taking walks with dogs the easy way? Let us know in the comments below!